Just because you're visiting London during the wintertime doesn't mean you have to stay cooped up inside your room.
In fact, London arguably looks even better and offers more to its tourists during the winter. Think open-air ice rinks, Christmas markets, mulled wine, cosy pub fires and winter festivals.
The winter weather in London isn't too harsh to spoil the fun. However, make sure you pack some extra clothing, as the temperature outside could fall below 0°C (32°F) at night.
Whether you are visiting for study, internship or volunteering, here are 10 cool things to do in London to satisfy your winter wanderlust.
 1. Admire Christmas at Kew Gardens
Photography: Jeff Eden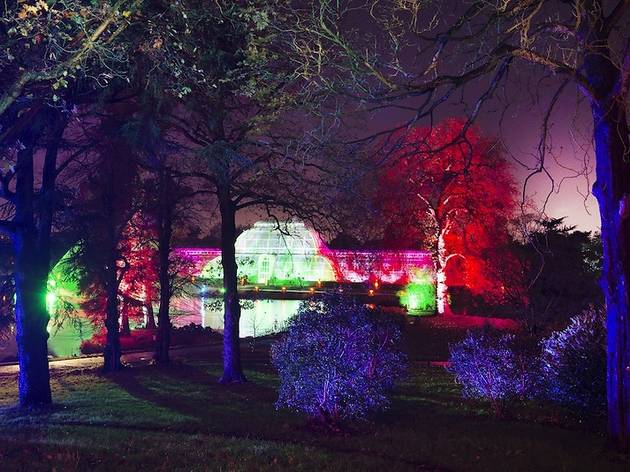 You must be thinking to yourself, "Why should I be visiting trees and carnivorous plants on a cold, windy day? What's the fun in that?" But the purpose is different.
Staying in London during Christmas, but not visiting the astounding light show at Kew Gardens could be a lifelong regret. Don't let it be! Come with friends or colleagues. Delight your eyes with the breath-taking sight of the iconic buildings, greenhouses and lakes lit up with over one million twinkling Christmas lights, at the Royal Botanic Gardens.
Stroll along the walkways and see the LED Vines changing colours as you touch them. Head over to Palm House for the spectacular display of waterfall and lighting to the tunes of music. Already feeling excited? Book your tickets months in advance or you might miss the show.
Dates: From November 20 to January 05
Opening times: From 5 pm to 10 pm
Closest tube/train station: Kew Gardens Station
Ticket price: Starts from £18 for an adult person and from £11 for a child between the ages of 4 and 16.
2. Hit the ice rink at Somerset House
Photography: Luke Dyson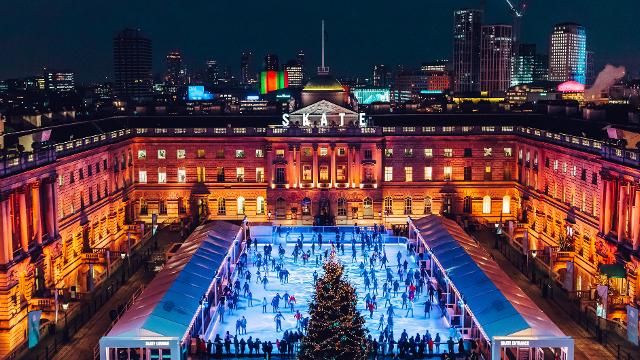 Almost every list of the best things to do in London during the winter includes ice skating, but that's not why you should jump on the bandwagon.
Ice skating in London is more than just a fun activity. The sight of temporary ice rinks popping up throughout the city heralds the coming of winter and Christmas. So finding an ice rink near you isn't difficult, but for a full-fledged skating experience, consider heading down to Somerset House, one of London's go-to skating destinations since 2000.
As you skate along the Victorian courtyard, marvel at the neoclassical architecture and the spectacular 40ft Christmas tree. Savour delicious foods and drinks after skating. 
Dates: From November 13 to January 12 (Advance booking starts in September)
Opening times: From 08.45 am to 11.15 pm
Closest tube/train station: Temple Tube Station
Ticket price: Starts from £11 per person 
3. Go shopping at Winter Wonderland
Photography: Winter Wonderland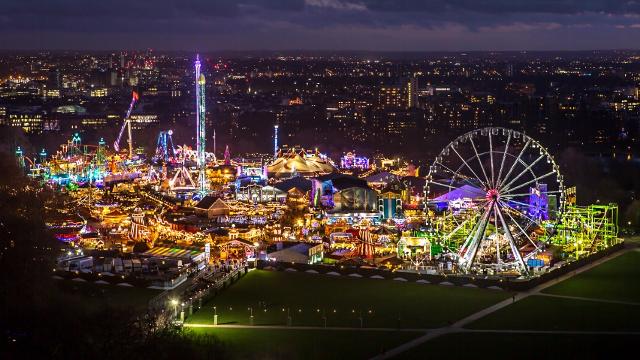 If you are big on shopping, however, simply visiting any Christmas market may not suffice. For a comprehensive Christmas shopping experience, head to Winter Wonderland. From handcrafted jewellery items to thoughtful gifts for the most discerning recipient, this granddaddy of Christmas markets has something for everyone.
Not a fan of shopping? Winter Wonderland can still enthral you with its 60-metre observation wheel, open-air ice rink, fairground rides, circus shows and ice sculpting workshops.
Entry to Winter Wonderland is free. So even if you don't do anything, simply enjoy the festive vibe as you walk along the market at your own pace. 
Dates: From November 22 to January 06
Opening times: From 10 am to 10 pm, except Christmas Day
Closest tube/train station: Marble Arch or Hyde Park Corner tube station
Ticket price: Free entry 
4. Appreciate afternoon tea at The Ritz 
While many hotels in London serve afternoon tea all year round, the winter months seem a perfect time to indulge in this quaint English tradition, if only to keep yourself warm in cold weather.
But drinking afternoon tea at acclaimed hotels like The Ritz, The Chesterfield Mayfair and The Royal Garden Hotel has many other perks. The foods they serve are a treat to your taste buds. Finger foods are a staple, but you'll also get to eat English muffins, freshly baked scones, pastries, and sandwiches. What's more, some hotels offer winter-specific items, such as, smoked turkey sandwiches, spiced fruit scones, and special teas.
It is also a chance for you to know the British tea etiquettes. Some hotels have a strict dress code for their customers. For instance, you are not allowed to wear jeans and trainers at The Ritz.
Dates: Daily
Opening times: From At 11.30am to 9pm (Total 5 sittings at 11.30am, 1.30pm, 3.30pm, 5.30pm, and 7.30pm)
Closest tube/train station: Green Park or Piccadilly Circus tube station 
Price: £58 per person 
5. Attend the Winter festival at Southbank Centre
Photograph: Jimmy Garcia
Get in the festive mood and enjoy winter to the fullest, with a trip to the Southbank Centre Winter Festival, along the river Thames. If you are looking for free things to do in London, definitely include this festival on your list. Wander around the Southbank Centre Christmas market and marvel at those beautiful handcrafted items.
If you are looking for live entertainment with a little interaction between the audience and performers, consider, attending music shows, theatre, and comedy performances. The festival usually starts in early November and continues until January. Entry is free, but you may need to buy tickets for certain events.
Dates: From early November to early January 
Opening times: From 10 am to 10 pm
Closest tube/train station: Waterloo tube station 
Ticket price: Free entry
6. Watch a Pantomime Show at Hackney Empire
Photography: Robert Workman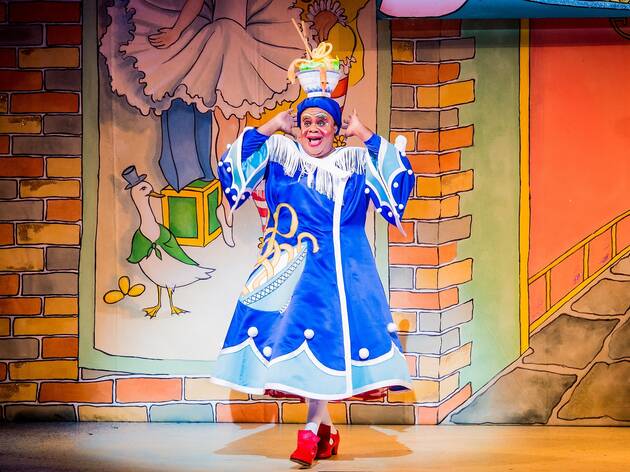 London is great at retaining its age-old traditions. The rising popularity of Christmas Panto even to this day is a perfect example of that. The outlandish musical plays based on fascinating fairy tale stories are reminiscent of the city's rich cultural heritage. Can you imagine a better time to enjoy a classic Pantomime Show than during the festive season of winter?
Not including Panto in your list of cool things to do in London during the winter would be a gross mistake. Most of today's Panto shows feature celebrity guests. For instance, Clive Rowe plays Widow Twankey in director Susie McKenna's Aladdin at Hackney Empire. You can also enjoy a Pantomime Show at Palladium Theatre and Richmond Theatre, among others.
Showtimes: At 1:30 pm or 2:30 pm and 7 pm
Closest tube/train station: London Fields or Hackney Downs train station  
Ticket price: Starts from £10 per person
7. Catch a match 
Photography: Anders Krøgh Jørgensen 
London boasts of more than a dozen professional football teams and plays host to a number of national and international football tournaments. That means you can watch football matches all year round, but more matches are held during Christmas time. Typically, the city hosts at least one match a day from December 26 through the first week of January.
Most of the home matches are held at Wembley Stadium, but you can also watch Premier League matches at Liverpool's Anfield, Manchester United's Old Trafford and Manchester City's Etihad stadium, among others Whether you are a football fan, a Rugby fan or simply love the electrifying ambience of sports stadiums, catching a match at London should be an experience you'll cherish for years to come.
8. Break a sweat in London
Photography: John Arano
Granted, it's cold outside, but nothing should stop you from achieving the summer body you desire. Thankfully, London offers a bazillion of swanky gyms. Or if you want, you can join yoga classes or head out for a long run. Not sure how to find a perfect place to work out in London? Simply download the ClassPass app on your iPhone or Android, and find a gym, yoga or martial art centre near you.
9. Watch Changing of the Guard
Photography: Patrick Robert Doyle
Changing of the Guard is a wonderful sight to behold, but it looks even more elegant during the wintertime, especially in the snow. There's something magical about watching this military spectacle, against the backdrop of a snowy Buckingham Palace. See the Queen's guards, in their red tunics and bearskin hats, handing off responsibilities with an outstanding display of British pageantry, as they stomp around to the tune of a military band. This is arguably one of the best free things to do in London during the winter.
10. Head to a cosy pub
Photography: Fred Moon
After a long day of winter activities in London, you want to A) relax and unwind over a glass of beer or real ale, B) sit in front of a roaring fire to warm up your bones, and C) do all that in a place steeped in history.  Can you see where this is going? Yes, we are hinting at those cosy London pubs. For a more enriching experience, choose a historical pub – a pub that has a story worth telling.
For instance, one of the oldest pubs in London, The Dove at Hammersmith played host to Charles II and Nell Gwyn in the 17th century. Their more recent list of celebrity guests includes Ernest Hemingway and William Morris. You can also visit The Churchill Arms near Notting Hill or The Mayflower at Rotherhithe, among others. 
Final thoughts
As the days get shorter and the temperature outside plummets, London's social scene heats up. So get out from under your blanket and venture out. However, as London offers overwhelming options for winter activities, deciding where to visit could be a daunting task. Hopefully, the above list will help you narrow down your choices, so you make the most of your time in London.
Related Articles
Don't forget to share this post!
Capital Placement
Capital Placement offering global internship programmes for students and recent graduates since 2012 with one of our 1500+ partner companies across 25+ industries.
[et_social_follow icon_style="simple" icon_shape="rounded" icons_location="top" col_number="auto" spacing="true" outer_color="dark"]